New York Psychic Known As Psychic Zoe Indicted For Swindling Dozens Of Victims Out Of $1 Million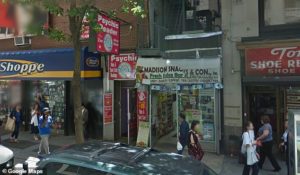 The Manhattan DA has charged a New York psychic with swindling dozens of victims out of $1 Million. Psychic Zoe also swindled $740,000 from a Canadian woman. The phony psychic insisted the money would be used to buy gold coins. The gold coins would be placed in a temple to protect her clients from danger. However, most of the money was spent in casinos in Atlantic City.
Ann Thompson aka Psychic Zoe was looking more morose than mystic as she was waiting to have her case heard.
Thompson last appeared in court in August. She pleaded not guilty to 17 counts from 12 of her former clients. She was indicted on charges of a scheme to defraud, grand larceny, and forgery.
Prosecutors say she touted herself as a renowned psychic medium and advertised readings for five dollars. Thompson operated out of the storefront 'Psychic Zoe' on West 35th Street near Seventh Avenue.